Termite Inspectors for CT Real Estate Transactions & More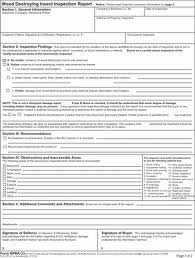 VA, FHA, HUD and most banks require a termite report by a licensed termite inspector because termites and wood destroying organisms can impact the structural integrity of a CT home or property, reduce the property value of the residence and cost home and property owners significant amounts of money in repairs.
Real Estate Sales Contracts, Lenders, Appraisers, Buyers and Home Inspectors often require, request or recommend a WDI Wood Destroying Insect Inspection Report. This report is also referred to as a Termite, Pest, WDI or Wood-Boring Insect Inspection Report. The mostly widely accepted format for this report is the NPMA-33 WDI report pictured on this page.
"Do I really need a termite inspector?" It's a question home buyers often ask. Although termites are more common in older homes, termites can be a problem in brand new homes throughout Connecticut as well.
When builders clear trees from a site to build new homes, the termites can migrate to the wood stored on the site. A concrete slab or brick construction is no guarantee that termites will not eventually invade a home because termites can work their way up through the ground into minuscule cracks in the concrete.
Reports are issued on the industry standard NPMA-33 form at the time of inspection or in electronic PDF format via e-mail. A pest inspection for a real estate transaction is generally a limited visual inspection of the readily accessible areas of the property and does not include any dismantling, removing or invasive procedures.
Call us today to set up an appointment: